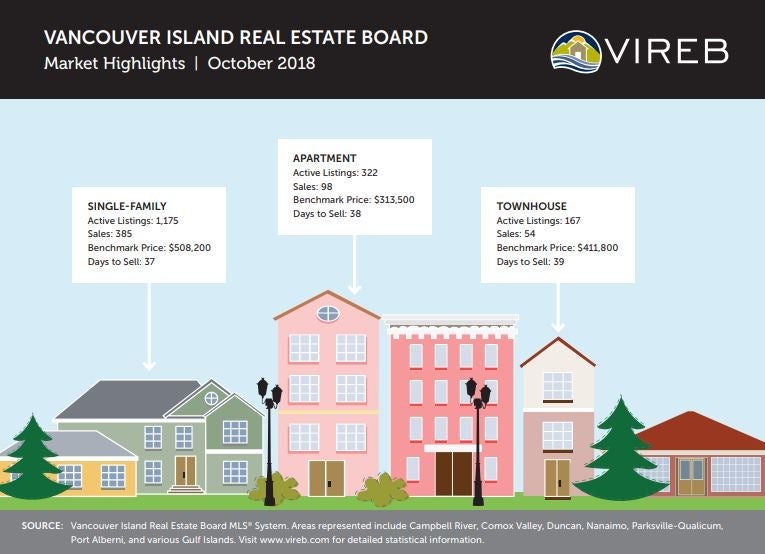 Sales of single-family homes in October were 11 per cent higher than in September but dipped by 16 per cent from October 2017.
Last month, 385 single-family homes sold on the MLS® System compared to 347 in September and 458 one year ago. The number of apartments and townhouses changing hands last month dropped by eight and 21 per cent, respectively.
Decreased demand and stabilizing inventory are helping VIREB's long-term sellers' market evolve into one that is more balanced. Inventory of single-family homes in October was up slightly from one year ago (1,175 compared to 1,138) but down eight per cent from September. There were 322 active listings of apartments in October, up seven per cent from 2017 while the supply of townhouses rose by 28 per cent year over year. Multiple offers have slowed, and buyers are taking more of a wait-and-see approach, which means some sellers will have to curb their expectations.
Despite lower demand, prices in the VIREB area are still rising year over year. However, the board-wide benchmark price of a single-family home did drop slightly from September, and modest month-over-month price reductions on single-family homes, apartments, and townhouses did occur in several zones.
The benchmark price of a single-family home board-wide was $508,200 in October, an 11 per cent increase from one year ago. In the apartment category, the benchmark price climbed to $313,500, up 16 per cent from last year. The benchmark price of a townhouse hit $411,800 last month, up 13 per cent over October 2017.